Sideline Pass Podcast Review: The College Football Fans' Inside Scoop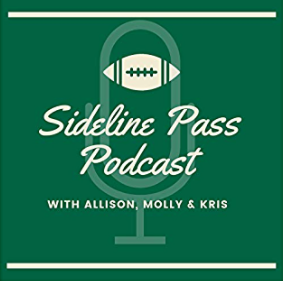 ESPN sideline reporters Molly McGrath, Allison Wiliams and Kris Budden teamed up during the pandemic and created a podcast. The three women talk each week about stories from games they covered that week and take a look at upcoming games. On most episodes they welcome guests such as other sideline reporters, play-by-play announcers, analysts, and players. Not only do they talk about their games but they also discuss their careers, give advice for aspiring broadcasters and share   stories about interviews with coaches and players. McGrath, Williams and Budden also talk about navigating the sidelines during the COVID-19 pandemic. 
The trio of broadcasters is more than qualified to be sharing with the fans of college football having worked in the industry for many years.  Molly McGrath has worked as a sideline reporter since 2016. She covers Saturday college football games on ESPN and ABC. She joined ESPN in 2011 and since then Allison Williams has worked on an array of college sports including football and basketball. Joining ESPN in 2016 Kris Budden covers college football, basketball and baseball. 
When sharing stories about their interviews,  not only do they talk about what viewers saw but also their thought process while asking their questions. McGrath shared a story from when she covered the Wisconsin/Northwestern game this year and her post game interview with Northwestern Head Coach Pat Fitzgerald. Earlier in the week, the Northwestern team had been compared to Reece Davis, ESPN analyst but besides that just an average guy. Throughout the week, the Wildcats used that as motivation for their Big Ten West showdown, but kept it private to their team not to draw so much attention to themselves. When Fitzgerald made a comment about their "fighting Reece Davises" McGrath was unaware what this meant, but chose to ignore the comment and ask the questions she had planned to avoid looking uniformed. The stories are not only entertaining but provide advice to any young aspiring broadcasters; in this one for example McGrath shared to always follow your instincts and if you aren't sure what a subject is saying, just ask.
Almost all episodes of their podcast include a guest from the industry. Instead of a classic interview style they engage in conversations, share their own stories and bring their experiences. Some of these guests include, host and reporter for ESPN and the SEC Network; Laura Rutledge, reporter and sports journalist; Malika Andrews, and college basketball analyst Dan Dakich. 
Budden, McGrath, and Williams tell listeners what it is like to be a woman in an industry that is so male dominated. They tell stories about how they are treated by coaches, other journalists, fans and the media and how it differs from their male counterparts. When they share these stories they do always choose to exclude the name of the other person. Allison Williams spoke about a meeting she was in with a coach and the rest of her broadcasting team. When the coach was explaining a play he stopped and said that she wouldn't know what he was talking about so he explained further for her despite her already understanding the play. After the other two women said that they had shared similar experiences so they knew exactly who she was talking about. 
There is a transparency that they offer in all aspects that they talk about whether it be COVID protocols, mistreatment because of gender,  or interviews gone wrong. It allows listeners to truly have an inside look at the sidelines instead of being able to see only what they want to share or changing information in a story to make themselves look better. 
While the podcast is great for people with a diehard interest in college football or sports journalism hopefuls, it is not something for those who are not as invested in this industry. But if collegiate athletics are something that sparks interest this is a great way to learn the inner workings of that world. It is good for casual listening while doing other things but hearing the stories that are shared will grab your attention and you won't be able to stop.
Leave a Comment
About the Contributor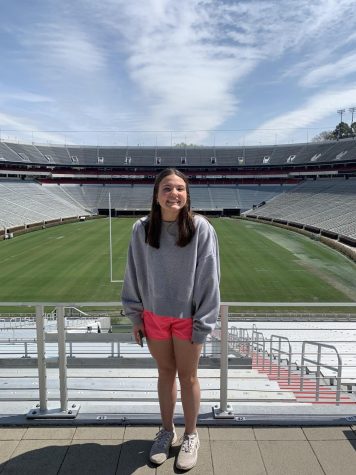 Lizzie Rubright, Sports Editor
Lizzie is a senior and in her third and final year writing for The Paw. Lizzie loves all things sports: watching them, playing them and especially writing...