The 63rd Annual Grammy Awards
Artists around the globe have come together to celebrate the biggest night of the year for music. The 63rd Annual Grammy Awards was nothing like it has ever been with star-studded performances, emotional acceptance speeches, and yes, social distancing.
Who won what?
Record of the Year: "Everything I Wanted" by Billie Eilish
Album of the Year: Folklore by Taylor Swift
Song of the Year: "I Can't Breathe" by Dernst Emile II, H.E.R., and Tiara Thomas
Best New Artist: Megan Thee Stallion
Best Solo Pop Performance: "Watermelon Sugar" by Harry Styles
Best Pop Duo/Group Performance: "Rain On Me" by Lady Gaga with Ariana Grande
Best Traditional Pop Vocal Album: American Standard by James Taylor
Best Pop Vocal Album: Future Nostalgia by Dua Lipa
Best R&B Performance: "Black Parade" by Beyoncé
Best R&B Album: Bigger Love by John Legend
Best Rap Performance: "Savage" by Megan Thee Stallion with Beyoncé
Best Country Album: WildCard by Miranda Lambert
*The award show featured many other categories and winners*
When and where did the Grammys take place?
The 63rd Annual Grammy Awards took place on Sunday, March 14, 2021, at 8:00 pm EDT for viewers on Paramount+, Paramount's new streaming platform, and on CBS. The event took place in a tented venue across from the Staple Center in Los Angeles California, with two distinct locations: a seating area for the nominees of each category and stages for the performers.
Who hosted?
Trevor Noah took on the mantle as host of this year's Grammys. Noah, who is also known for hosting The Daily Show, ensured fans that no matter the circumstances the Grammys would be memorable. During his opening speech, Noah stated, "That is what tonight is all about — it's about bringing us all together as only music can. Well, I mean, music and vaccines. This evening, we will celebrate music and hopefully forget all our problems, unless one of our problems is being obsessed with Harry Styles because that's only going to get worse, I can promise you.". His jokes did not end there as he further joked about the royal family, the Capitol Insurrection, and the Coronavirus. With such a crazy year, it's no surprise that Trevor Noah entertained the audiences at home and in-person with comical lines.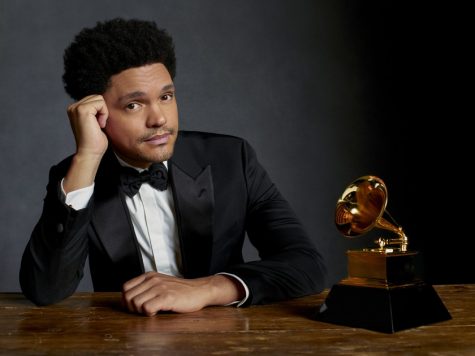 Who performed?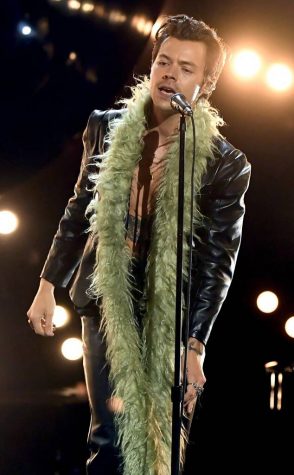 The night began on a really good note (no pun intended) as Harry Styles was the first to perform. Styles sang a jazzy rendition of his hit song "Watermelon Sugar", which would, later on, be awarded as the Best Solo Pop Performance. Harry Styles rocked a bright green feather boa and an all-black Gucci leather suit, making him one of the best dressed of the evening.
Shortly after, Billie Eilish appeared as the next musical guest, accompanied by her brother, Finneas O'Connell. Eilish sang her song "Everything I Wanted" while standing on top of a non-moving car. The 19-year-old artist had a very successful night as she went home with two Grammys: Record of the Year and Song Written for Visual Media.
Everyone's favorite country singer turned global pop star turned alternative artist also returned. That's right, Taylor Swift returned to the Grammys with a medley of her songs from her albums written entirely during quarantine, Folklore, and Evermore. Swift, who was joined by collaborators Aaron Desner and Jack Antonoff, sang "Cardigan", "August" and "Willow", while dancing around a very interesting stage. Her performance definitely established the earth-based tone of her songs as she laid on top of a roof in the middle of the woods. Taylor Swift's night did not end there, as she later won the award for Album of the Year, making this the third time she has won that category.
The Grammys featured many other spectacular performances from artists like Dua Lipa, Post Malone, Doja Cat, Megan Thee Stallion, Bad Bunny, BTS, and more!
What else was featured?
The evening wasn't just about celebrating new artists and their music but also reflecting on the prominent musicians, singers, songwriters, and producers that we have lost in the past year. During a Memoriam segment, many musicians that had sadly passed away during 2020 were honored with their photos on display. The segment also featured a special performance from Lionel Richie who dedicated his performance of "Lady" to his longtime friend Kenny Rogers, who had passed away in March of 2020. This segment paid tribute to the infamous figures in music that greatly contributed to the industry.
What was different this year?
Of course, the awards show was different than what anybody would expect because of the ongoing pandemic, but that didn't stop artists from coming together to celebrate. One of the major changes this year was that there were no live audiences and that the only people in attendance were music artists who were nominated, their plus-ones, and the performers. Throughout the evening, the attendees had to follow covid safety regulations such as wearing a mask and keeping a distance from one another. In order to ensure the safety of the guests, the Grammys also built individual stages for the performers so that they could be distanced from each other while performing. The event also featured some pre-recorded performances so that there weren't too many people in one location at once.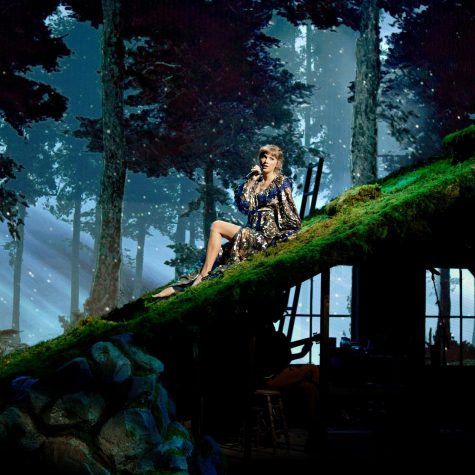 Was there a pre-show?
Before the event began, the Grammys pre-show featured a red carpet for all of the in-person attendees. The pre-show was live-streamed on Facebook and Youtube displaying killer pictures of outfits and some really interesting interviews from all of the nominees.
Despite the craziness this year has brought, the Grammys succeeded at bringing together some of the best artists/musicians and their listeners to celebrate the music industry.
Leave a Comment
About the Contributor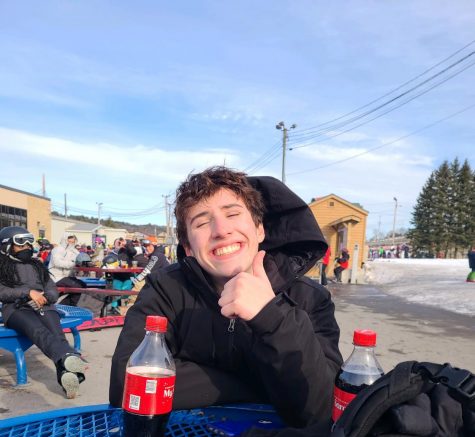 Sebastian Gutkin, Editor-in-Chief
Sebastian Gutkin is a senior here at West Morris Central High School and is currently Editor-in-Chief. This is his third and final year writing for The...